District Five Voters Pass $295 Million Bond Referendum
On November 2, 2021, Spartanburg District Five voters overwhelmingly approved the district's bond referendum, with 84%, 3,660 voters, saying "yes" to the ballot measure. The referendum, which marks the largest ever in District Five history, will help District Five accomodate enormous growth in student enrollment.
"With this resounding approval, our voters have said 'yes' to investing in the future for our students," said Superintendent Dr. Randall Gary.
On August 23, 2021, the Spartanburg District Five Board of Trustees unanimously approved sending a bond referendum to voters in the November 2021 general election, to fund the tremendous growth that is impacting all District Five schools and facilities.
In the last 25 years, student enrollment in District Five has more than doubled, making it the fastest growing district in Spartanburg County, and one of the fastest growing in the state of South Carolina. In those 25 years, District Five has built 5 new schools, and added 100 new classrooms to existing schools.
If passed, this referendum will allow the district to adequately prepare for that growth, building both new state of the art schools and facilities and remodeling others, WITH NO TAX INCREASE FOR TAXPAYERS.
Stay tuned to this page for more updates and progress on construction related to District Five's growth plan.


Spartanburg District Five Schools is a thriving, highly successful school district encompassing the Duncan, Reidville, Lyman and Wellford communities of upstate South Carolina.
As the fastest growing district in Spartanburg County, District Five has grown by more than 20%, or 2200 students, since 2011. That's the size of three large elementary schools!
In an effort to address its growth, District Five commissioned a facilities and demographic study in the fall of 2019, followed by an updated demographic study in 2021. The results of this study, and the latest update, have served as a "roadmap" for District Five, identifying current and future enrollment trends, as well as school and facilities needs for the next several years.
THE BOTTOM LINE: District Five must make plans now to address growth and serve the needs of its students, staff, and community for the years ahead.

Following the 2019 facilities study, District Five continued to monitor growth and seek updated information on its facilities and needs. In 2021, a demographic study provided an update, based on the district's latest enrollment numbers. This updated study had several key findings. First, the district has grown by more than 2200 students in the last ten years.
According to this model, District Five is projected to have an enrollment of more than 11,000 students by 2025-26! Looking at this model, and our latest enrollment data, District Five has actually surpassed the study's projections, growing by approximately 600 students this school year (2021-22) alone.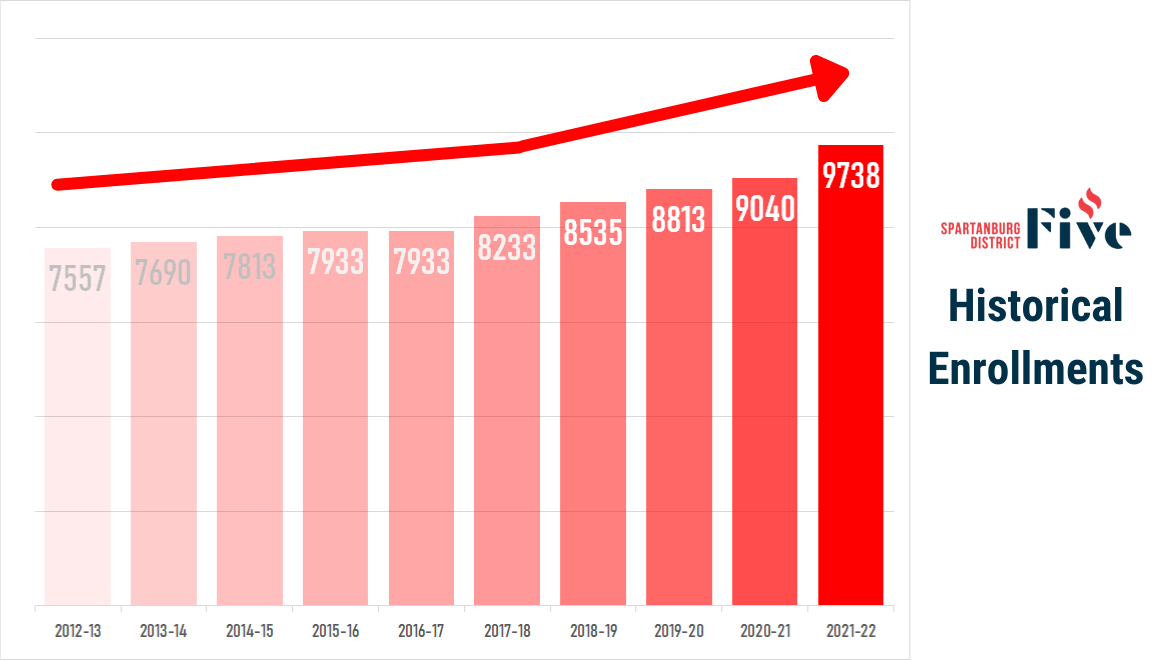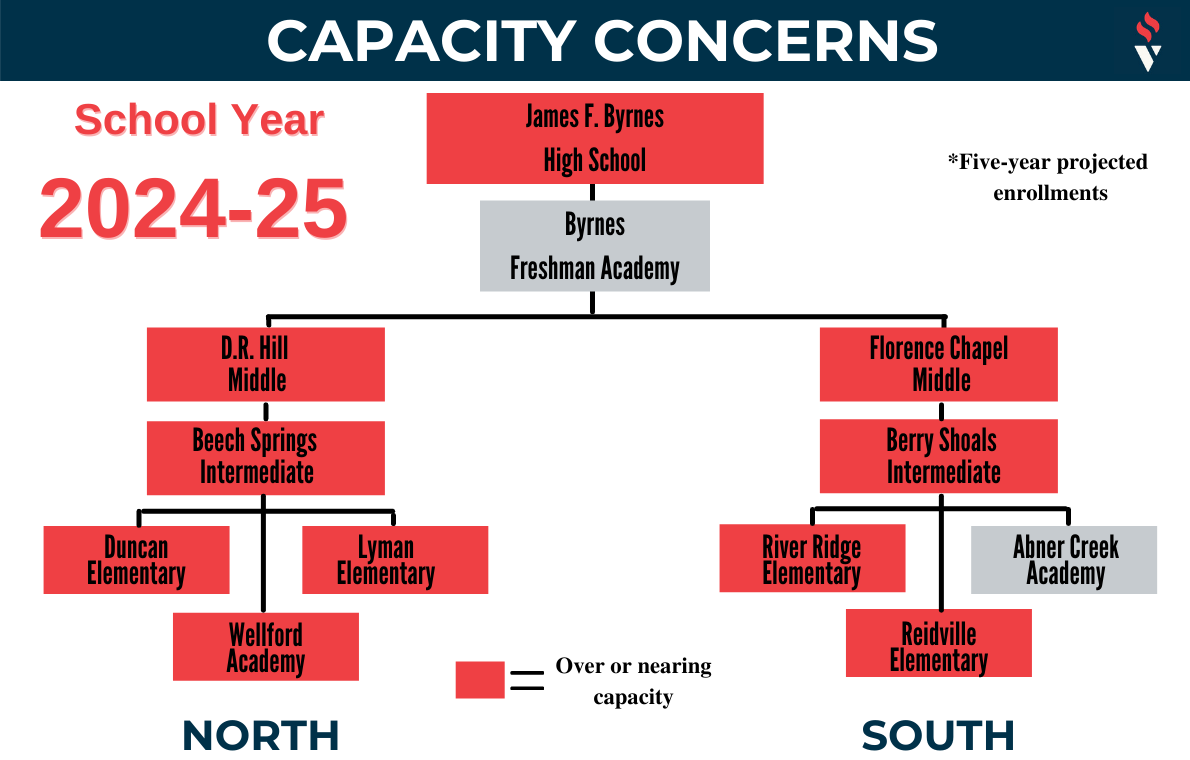 District Five's Board of Trustees adopted a plan that would address our growth in several key ways:
Create two new schools (1 elementary and 1 middle) to bring the total number of schools in the district to 14

Eliminate the intermediate school concept (5th-6th grade) and return to a more traditional elementary school (K-5th grade) and middle school (6th-8th grade) structure. This would mean the district would grow from 6 to 8 elementary schools and 2 to 4 middle schools

Completely rebuild and increase the capacity of Wellford Academy, the district's oldest elementary school, due to the growth in that community, and the age of the building

Increase capacity at Reidville Elementary School to accomodate continued growth

Recognizing that all student growth would eventually impact Byrnes High School, the plan calls for the renovation and completion of several new additions to the high school campus