District Five Fine Arts Center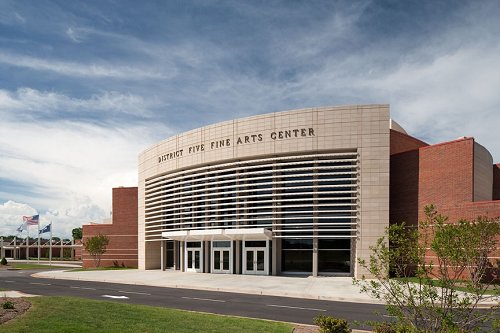 Hosting numerous concerts, productions, meetings, and receptions annually, the District Five Fine Arts Center has become a focal point for our students, our staff, and our community. The facility, located on the campus of James F. Byrnes High School, includes an auditorium with comfortable seating for an audience of 1000 guests. With 711 seats located on the main level and an additional 289 on the balcony level, every audience member is treated to an exceptional view of the stage. The auditorium also features an attractive lobby and mezzanine area which is appropriate for art shows, receptions, and small meetings. The stage is designed to handle the largest musical ensembles in District Five as well as drama and theatre productions of all kinds, and it is adaptable for smaller, more intimate events when necessary.
The attached map of the Byrnes High School campus points out numerous parking options for those visiting the District Five Fine Arts Center. Please note that the small parking lot adjacent to the D5FAC fills quickly and is often reserved for those with handicapped placards in their vehicles.
Below are seating charts for both levels of the District Five Fine Arts Center. The balcony includes 289 seats. The lower level seats 705 with spaces for wheelchairs as well.
Fine Arts Center Resources