As congressman and senator he demonstrated outstanding talents and was acclaimed generally as the most effective legislator of his day.
He sat with distinction upon our highest court but unhesitatingly resigned to devote himself selflessly first, as a war mobilizer to the winning of World War II and later, as Secretary of State to directing our foreign policy towards the goal of world peace. In all these undertakings, he reflected credit and honor upon his native state and upon himself.
Our school honors him specially though because as Governor of South Carolina, he fathered an educational renaissance in his native state, the benefits of which will endure as long as South Carolina itself.
U. S. Senator 1930-1941
Supreme Court Justice 1942-1943
Secretary of State 1945-1947
Governor of South Carolina 1951-1955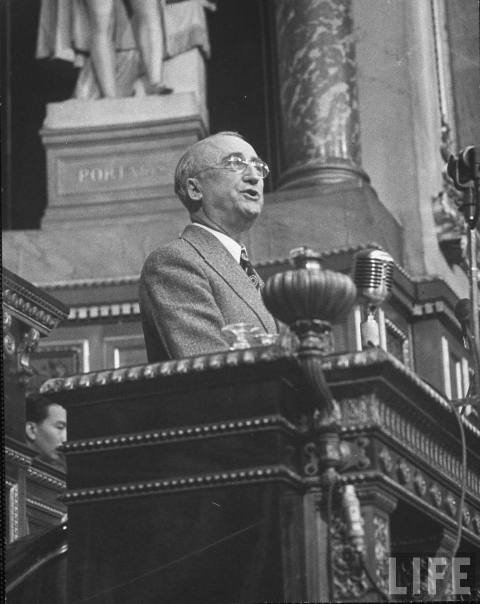 Peace Conf./(C)Closing Session
US Secy. of State James F. Byrnes making his closing speech to delegates attending UN-sponsored Foreign Ministers' peace conference.
Location:Paris, FranceDate taken:October 10, 1946

Photographer:Gjon Mili